Chinese Herbal Medicine: Natural Remedies for Your Condition*
What is herbal medicine?
Traditional Chinese herbal medicine is an ancient form of natural and holistic pharmacological medicine that has a history spanning over 3,000 years.  Over the millennia of its practice, Chinese physicians observed the effect different natural substances had on the body.  Through these observations, they created comprehensive solutions for remedying numerous conditions.*  We have intensively studied the properties and benefits of hundreds different herbs and their various combinations and have made thousands of herbal formulas since starting our practice.  Our herbalist, Jose Ruiz, is one of only a few local practitioners who has spent years studying traditional Chinese herbal medicine from Dr. Tao Xie, a well-known master herbalist.
Today, Chinese herbs are used in much the same fashion as in the past, utilizing a wide array of substances from plants, animals and minerals to treat a variety of conditions.*  Unlike many other forms of medicine, Chinese herbal medicine is very dynamic in the way it is practiced.  Each individual receives a customized herbal formula, using up to as many as eighteen different herbs from our pharmacy of over 300 herbs.  At Family Acupuncture & Herbs, we typically monitor how your condition is progressing on a weekly basis and adjust your formula as needed.  When aspects of your condition change, so does your formula, thus keeping in tune with your needs every step of the way.
What types of conditions can herbs treat?*
Much like acupuncture, herbal medicine can treat most chronic and acute conditions, especially digestive disorders, menstrual problems, male infertility, female infertility, anxiety, depression, migraines, fatigue, colds, menopausal issues, insomnia, allergies and much more…*
For a list of common conditions treated with herbs click here.*
Is it safe and are there any side-effects?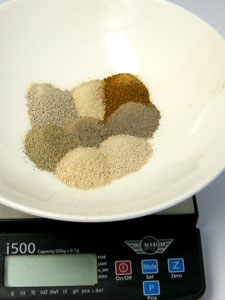 When practiced by a licensed and experienced practitioner, 
herbal medicine is very safe
.*  Our patients are often drawn to trying Chinese herbal medicine as a natural and holistic way of treating their conditions without the harmful side effects that some might experience with Western-style prescription medicines.*  Typically there are very few side effects with Chinese herbal medicine because the formulas are specific to each individual, but occasionally one may experience digestive discomfort such as bloating or loose stools.*  Any side effects that do occur can be quickly remedied by appropriately changing the formula.*
How do I take the herbs?
The herbs come as granulated powders that can be mixed in hot water and taken as a tea or swallowed in small amounts and washed down with water.  Some people prefer taking the herbs in other ways.  For instance, when we give herbal formulas to our own children, they often prefer mixing the herbs with yogurt or applesauce.  What is important is that patients are consistent in taking the herbs–usually twice per day is our recommendation–to achieve maximum efficacy.*
*Disclaimer:  Specific results are not guaranteed.  Results may vary from person to person.
---
Serving communities in Massachusetts (MA) and New Hampshire (NH), including: Wakefield; Reading; Lynnfield; Winchester; Lexington; Stoneham; Wilmington; Melrose; Saugus; Medford; Somerville; Woburn; Andover; Peabody; Danvers; Boston; North Reading; North Andover; Concord; Cambridge; Acton; Bedford; Billerica; Burlington; Wayland; Weston; Newton; Arlington; Nahant; Gloucester; Manchester; Manchester-by-the-Sea;Sudbury; Lincoln; Waltham; Watertown; Revere; Malden; Everett; Chelsea; Salem; Beverly; Swampscott; Marblehead;Middleton; Wenham; Ipswich; Tewksbury; Lowell; Belmont; Boxford; Rockport; Topsfield; Rowley; Brookline; Winthrop; Carlisle; Chelmsford;Dracut;Methuen; Haverhill; Lawrence; Georgetown; Newburyport; Salisbury; Groveland; Amesbury; Seabrook; Hampton