Receive a FREE Chinese Medical Evaluation and Diagnosis
(a $195 value)
Struggling with infertility can seem like a never ending roller-coaster.  One day you feel hopeful, excited, and full of anticipation.  The next day you see your dreams shattered, your faith challenged, and the harsh reality of the difficulties facing you set in.
Have you been disappointed by the quality of life that you've experienced since beginning menopause?  While this is a natural progression of women's hormones, the symptoms are described by many of our patients as uncomfortable, intolerable, and seemingly unnatural.  Fortunately, Chinese medicine has numerous solutions that can bring comfort and calm to your life.
Chinese medicine—especially the use of herbs—can effectively assist women suffering from endometriosis and infertility prepare for pregnancy.  Depending on the severity of the condition, Chinese medicine offers strong treatment measures alone or as an adjunct to Western medicine.
Jose is very knowledgeable and really takes the time to listen to your individual needs and prepares a treatment plan catered specifically to you.
The comprehensive care I received from Family Acupuncture was wonderful. His professional care exceeded my expectations and his personal compassion had a big impact. I have recommended Jose to my friends who could benefit from his care.

Sally M.,
About Chinese Medicine: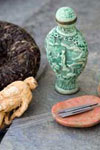 Chinese medicine offers a safe, natural and effective alternative approach to wellness without the risk of side effects. Our treatments maximize your health by rebalancing the system head to toe using 
acupuncture
 (thin, sterilized needles), electro-acupuncture, 
Chinese herbal prescriptions
, as well as 
nutritional
 and lifestyle counseling. Each patient undergoes a comprehensive evaluation and receives a customized treatment plan suited specifically to his or her unique situation.
Family Acupuncture & Herbs of Reading serves the many communities in Massachusetts (MA) and New Hampshire (NH), including: Wakefield; Reading; Lynnfield; Winchester; Lexington; Stoneham; Wilmington; Melrose; Saugus; Medford; Somerville; Woburn; Andover; Peabody; Danvers; Boston; North Reading; North Andover; Concord; Cambridge; Acton; Bedford; Billerica; Burlington; Wayland; Weston; Newton; Arlington; Nahant; Gloucester; Manchester; Manchester-by-the-Sea;Sudbury; Lincoln; Waltham; Watertown; Revere; Malden; Everett; Chelsea; Salem; Beverly; Swampscott; Marblehead;Middleton; Wenham; Ipswich; Tewksbury; Lowell; Belmont; Boxford; Rockport; Topsfield; Rowley; Brookline; Winthrop; Carlisle; Chelmsford;Dracut;Methuen; Haverhill; Lawrence; Georgetown; Newburyport; Salisbury; Groveland; Amesbury; Seabrook; Hampton